HOW TO FOLLOW YOUR "HUT" CONCRETELY! ;)
Thank you very much for all of your positive feedback on the last Ray about the "Hut", the voice of both the heart and the gut.
I thought again of the example that Alexandra Franzen gave to one of her friends who had always had a passion for TV shows, but who didn't think she could turn it into a profession. After all, she had no contact with Hollywood and no chance of breaking into the field of screenwriters! However, one day something changed.
"What would happen if I took my dream seriously?" 
For Melissa, taking it seriously meant:
- Downloading scripts off the internet and studying their structure.
- Writing her own scripts, great ones and some of average quality. (Allowing yourself to do something average will help you improve without any pressure, my dear!)
- Hiring a coach specialized in screenwriting to get his/her opinion on her work.
- Entering several screenwriting contests.
- Taking improvisation classes in theatre.
- Reading dozens of books on script writing.
- Sending emails to her friends to share her dream and ask if they could help in any way, to introduce her to someone in that field or to encourage her with a little message. Everything was good to take.
- Writing on her calendar a time to dedicate to writing and considering this time as a paid and mandatory time.
- Planning appointments to have a coffee with people who work in Hollywood, sharing her ideas of stories and getting help and advice.
- Looking up information about agents in the TV networks and contacting them to introduce herself.
- Presenting her ideas to a hundred people (even if she has a ton of rejections along the way).
- Finally, moving to Los Angeles (at least in the beginning), to be ready to attend meetings if the opportunity arose.
- Telling herself, "I'm a screenwriter" rather than, "I would like to be a screenwriter."
Once Melissa decided to take her dream seriously and to work towards it, a lot of things happened very quickly. A series of great leaps occurred. 
After about a year, Melissa sold her first project to the Lifetime network.
It was made last year and has been watched by over 4 million people.
Shortly after, she sold an original TV show.
She signed a contract to write a trilogy of films.
So many victories, so many decisive moments, and it was only the beginning of her career in television.
Personally, my dream is not to work in the entertainment industry and maybe yours is also very different from hers or mine, but we can all learn from her example.
As Leslie Odom Jr. a Tony award winner wrote in his memoirs:
"The biggest leap forward is the one you'll allow yourself to take by choosing to believe in your vision, in what you like and in the gifts that you want to offer to the world awaiting you."
From Melissa and Alexandra, I learned that the biggest leap isn't a contract, thousands of tickets sold for a gig, a great critic in the newspaper or an invitation to give a TED lecture.
Alexandra and her friend tell us this:
The big leap is the moment when you decide to take your dream seriously.
Chloë 
PS: Today was a very hot and beautiful day in Bordeaux.
PPS. What is the dream that you're willing to take seriously? Write it in capital letters and pin it to the wall. Update your calendar accordingly. Plan how much time you'll dedicate to it. Make it real. Send a message to a friend. Organize a launch party to celebrate. Live it. Shout it out to the world!
PPPS: If you wish to share this article with a friend or a family member, you'll find the links right below.
Note: Written from Alexandra Franzen's Newsletter.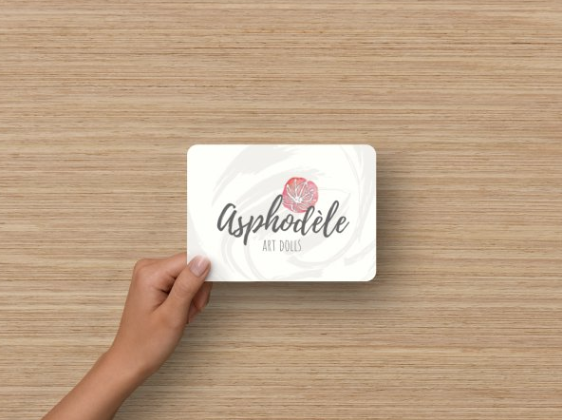 "I take my dream seriously"
I am a Dollmaker and I want to fully live off my creativity. That's what I truly want!"
This is what this photo says.
Those who adopt Ema will have a beautiful certificate of authenticity!
My big leap looks like this (may it inspire you and help you take your own leap!)
- Taking 3D classes to further my knowledge and work as a pro.
- Being part of doll shows and events around dolls (L-Doll, you're only the first!)
- Continuing to share the good vibe, the kind words around me, because it's part of my life and of who I am.
- Surrounding myself with positive people who can help and advise me.
- Collaborating with artists and creators I like to accompany me and encourage them to take their big leap.
- Like Melissa, the screenwriter, regardless of the success of my dolls, to just enjoy creating. 
- Updating the Asphodèle Studio website and asking the help of a professional to have a nice page with a lovely presentation. 
- Cultivating my spirituality, taking better care of myself, going to many more exhibitions and doing now the things I thought about doing "one day".